he collection unveiled duirng New York Fashion Week didn't cause a super stir but was given a warm reception.
Nothing was really innovative except for the idea of track jackets wrapped around waists and prolonged into tank dresses and shirtdresses.
The pieces looked unusual and they might be interesting for those who like style experiments.
Generally the collection was focused on short dresses most of which were blue and green bright. Some were adorned with feathers and sequins but mostly it was the gloss of satin that made them so noticable.
Some dresses were an absolute mess: with huge cutouts and even bra parts separated from the skirt ones.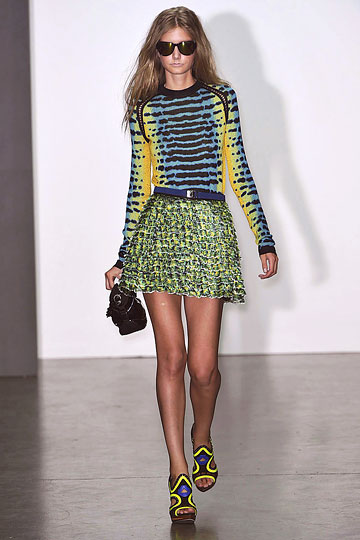 Just a few accessories were used including chunky braceletes, a coulpe of vibrant-colored handbads and sunglasses that turned the heads of the audience.
What really was catchy is the hair – dyed in violet, green and blue tones. I don't think it looked great, just another piece of mess in the collection.
Jack McCollough and Lazaro Hernandez, who founded Proenza Schouler in 2002, looked to their youth when designing their spring collection. "We wanted something young, something that felt fresh, so we looked to surfing and skating, the things we grew up on," they said..
Their approach paid off. The spring collection was laid-back, effortless and cool, without looking shabby. They singlehandedly brought tie dye prints back for spring, while their colorblock wedged-heel sandals will be a mainstay this season. Whether you are inspired to try this collection or not, it is sure to bring you back to your fashionable youth
proenza schouler spring photo