So, today, there is a return to the very essence of Indian style -- contemporary yet classical, romantic yet structured and modern yet completely celebratory, as only India knows how.
We spoke to ace designer Tarun Tahiliani, who said, "Across all cultures, the occasion of a wedding is important and especially more so in India. I am trying to highlight the effort that goes into adorning the bride and groom, so that this milestone in their lives becomes one of beauty, elegance and pride."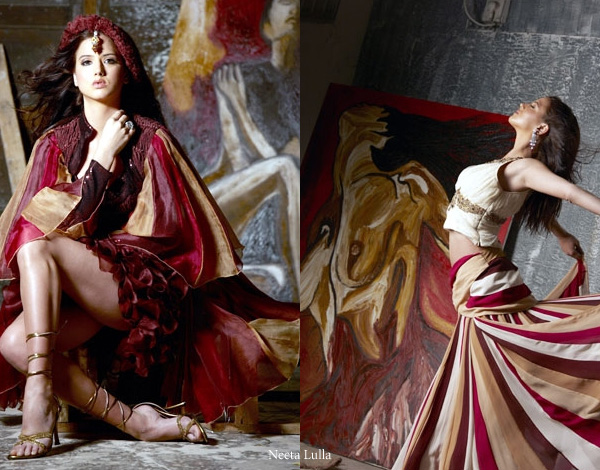 Take a look at Tahiliani's latest bridal collection, created especially for the Indian bride and groom, old school style.As for their design the Indian wedding gowns have as main characteristic the richness in models, the embellishments added. For us it may be too much, a too decked out vision with a slight way to a cheesy, tacky look. Still, even being so uploaded in this way they express the highest stage of a woman's beauty, a strong accent of its features.
As for the cut of such a dress type firstly to be mentioned is that it covers everything. Its components are about a short top that covers the breasts part, shown the belly and has round neckline with shorts sleeves. But this side is seen only by the grooms, as in front of others men the bride reveals nothing more but its face. The skirt is a long one; in fact a long material in which the bride is wrapped with overlapped sides. A veil is added and it covers half of the head and let it to fall on the shoulders.
I have two very different traditional jewelry styles that I enjoy. I really like American Indian big bold pieces, but I also enjoy broaches and more traditional peals as well. In terms of trends romantic jewelry is always in style hearts and diamonds will always make a girl happy and she will definitely approve of your choice.
The traditional colors for the outfit at an Indian wedding are usually vivid, intense nuances, like red and green, orange, yellow and many others as well. They symbolize on the one way the spirituality: prosperity in life, faith and luck and on the other way all about richness, luxury- the material side.
But what is her outfit like? Indian wedding gowns are at total opposite from the well known ours traditional dresses. In the first place, the colors are about expressing something, about revealing a life aspect. It is not the same purity and chastity need to be showed through the white wedding dresses, even though here this is a strict rule and moreover, a life depending aspect.
For earrings hoops and circles or knot earrings are big this season. For my wedding I would probably go with traditional pearls depending on the neckline, a rounded neckline would look amazing with a nice string of pearls. The main character of the wedding as it should be normal is the bride.